Job Application
The Job application area is designed for Electricaians that have experince in the electrical industry. If you are looking to complete an apprenticeship application please go to the Apprenticeship Application tab in the main menu.
Wage and Benefit Comparison
Have you ever wondered if your missing out on wages and benefits that you're could be earning as a member of IBEW Local Union 14? If so click the link above to check out this handy wage and benefit comparison tool! The results may surprise you.

Experienced Electrician Application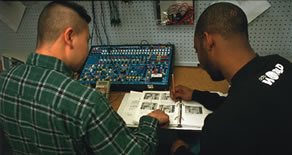 CAREER ELECTRICIAN

Please complete the application and email it to jchermack@ibew14.org or

Print and complete the APPLICATION then mail your application to:

IBEW L.U. 14 Membership Developement

9480 Hwy 53

Fall Creek, WI 54742

After the application is received, it will be reviewed by our examination board and you will receive an email confirmation. Thank you for your interest in the INTERNATIONAL BROTHERHOOD OF ELECTRICAL WORKERS, Local Union 14.
Download:


Application for Employment.pdf
Credential Status?

Below is the link for checking your Certification through the Wisconsin Department Of Commerce. Through the Wisconsin Department of Commerce you will be able to keep track of your continuing education requirements needed for renewing your electrical certification.
Tool List
 Journeyman wiremen shall provide themselves with at least the following tools: NOTE Broken or worn tools marked with an * are to be replaced by the Employer Tool box 2 pr. channel lock pliers 1 pr. long nose pliers 1 pr. 8" or 9" ? Klein 1 pr. diagonal pliers 1 Pair tin snips 1 wire stripper - #10 wire max.

Page Last Updated: Jan 19, 2023 (14:14:00)